Our Story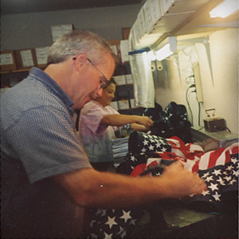 In the Breeze was established in 1985 by Bill Dual and Debbie Schomberg. After "retiring" from a major retail store chain, Bill and Debbie started In the Breeze, designing and producing products in the spare bedroom of a rental house in Sunriver, Oregon. We purchased weather-resistant fabrics by the yard, findings by the dozens, and printed our own labels. We hand-cut, sewed with a newly purchased New Home machine, finished, and packed every item. Our first design was a 3D lotus-shaped flower with two additional flower sizes in varying complementary colors including rainbow, a rainbow fish, and an orca windsock following soon after. This small collection completed the original In the Breeze product lineup. Selling as much as we were able to carry, we packed up the van and drove to stores throughout the Northwest and Northern California. In 1987, we exhibited at our first trade shows in Portland and San Francisco.
In 1988, we moved In the Breeze to Bend, Oregon where our executive offices are still located today. At that time, all facets of the business were conducted under one roof – that being our home. Our family room was used for production, the spare bedroom for the office, the garage for stock and shipping. Responding to demand, we added 36" and 15" printed windsocks to our line. We established local relationships with silkscreen and typeset printers, and a glove manufacturer die-cut our pattern pieces. Bill cut our tails and sewing was done by Debbie and contract sewers. Sales of our USA Flag windsock were propelled through historic Desert Storm and 9-11 events. Our focus on low minimum, custom souvenir, and advertising windsocks was also very popular. Most of the original artwork including our original logo was done by Jean Schomberg, Debbie's mom.
In 2000, to continue to meet the needs of our growing customer demand — and having maximized our own production capabilities — we began purchasing relationships with factories in China, Taiwan, and Indonesia. Since we already had been manufacturing for 15 years, we had a keen understanding of what expectations of quality, innovative design, and marketable prices our customers needed to succeed.
Importation has proven to be a good decision for In the Breeze as we have experienced dramatic growth that has necessitated the need for us to move to multiple larger office/industrial spaces since 2002.
Through the years, we also have distributed prominent lines like Milk and Honey-Transglow, Catch the Wind, Hog Wild, White Eagle, Go Fly a Kite, William Mark, Flying Wings, Wind Fairy, New Tech Kites, Flappin' Flags, Premier Kites, and X-Kites. Offering these essential companies' product lines fueled our growth and deepened our product knowledge and understanding of what our customers wanted and needed to be successful.
In the Breeze has come a long way in nearly forty years. Our product line has grown to over 1,500 outdoor decorative and kite products and our product development team is constantly researching the newest trends in the outdoor decorative and kite industry. Our goal is to bring to market quality, innovative, unique, products with exceptional value.
Bill's two sons, Scott and Ryan, are instrumental to the success of the business. Ryan, our general manager, started in 1997. Scott successfully ran his own business for several before joining ITB as our operations manager. He runs the shipping warehouse in Portland and has been with us since 2013. We also have experienced sales, development, and customer service associates that have been with us for over 10 years. All ITB associates are customer-focused and are the core reason for our continued success.
Our tradition of quality products, exemplary customer service, and fast shipments has earned In the Breeze many prestigious industry awards from the Gift & Souvenir Industry and the Kite Trade Association International including:
The prestigious David Checkley Lifetime Contribution Award
Multiple Manufacturer/Wholesaler of the Year

Best Kite of the Year

Multiple Best New Product That is Not a Kite
Multiple Best Trade Show awards
Best of Floor Award for Outstanding Visual Display by The Atlanta International Gift & Home Furnishings Market
In the Breeze showcases our products at many major tradeshows throughout the nation. Visit our Tradeshow Schedule to find one near you. If you are not a retailer but interested in purchasing our products please view our Retailer Links.
In the Breeze has a top-notch sales team ready to answer all your questions and will happily assist you with your orders. Or if you would prefer, send your orders by fax, email, or order on our website.
Our Customer Service Department is ready to help you with any product complaints, order, or billing problems.